Back to the Fuchsia 10, 25, 50, 75, 100 and 110 mile challenge rides
Sunday 11th May 2014
Start 8am onwards
Rides for all tastes, all starting and finishing at Thornton Nurseries, The Fuchsia Centre (tea, coffee, soup etc). Entry fee £2
Map reference SK 470074 Click here for map.

Click on the links below for map and route details for each leg plus GPX files if you have GPS.


This event counts towards the National CTC Tourist Competition.
As in previous years those cycling to and from the event in addition to riding one or more legs have their total cycling mileage for the day on the certificate.
Further details from John Allen (01530) 243384.
Email:fuchsia@ctclr.org.uk
CTC Heart of England Meriden Cycling Rally
17th – 18th May 2014
2014 sees the centenary of the outbreak of WW1, to be marked by a special programme of events. This includes a variety of rides available on the Saturday, with a film show and fish & chip supper in the evening followed on the Sunday by the 93rd Cyclists' Memorial and Celebration of Cycling Service at 11am around the Cyclists' Memorial on the Meriden village green.
Click here for details of all the activities.
East Midlands CTC Regional Rally – Beaumanor Hall
23rd – 27th May 2014
CTC members are invited to camp again in the beautiful grounds of Beaumanor Hall, Woodhouse near Loughborough.

There are excellent facilities and a variety of led rides will be available.

Click here for Information sheet, programme and booking form.

For further information contact Ray Clay, tel 01509 261068 or Email:info@ctclr.org.uk

You can read more about the Beaumanor Rally here.
The Heart of the Shires Audax 200k/100k
Saturday 7th June 2014

200k 8am Entry fee £6 for AUK & CTC members, £8 for others
100k 9am Entry fee £5-50 for AUK & CTC members, £7-50 for others
Start will be from Lutterworth.
Further details from Tony Davis, 2 The Courtyard, Claybrooke Magna, Lutterworth, LE17 5FH
Tel 01455 202876 Email: shiresaudax@ctclr.org.uk
Challenge Rides 100m/50m/25m
Sunday 22nd June 2014
9am start for 100miles riders, and those
aiming for 50 mile loop only.
9.30am start for 50 milers
10am start for 25 milers
Thornton Community Centre . Map reference SK 466079 Click here for map.
Maps required: O.S. Landranger No. 128, 129 & 140
Entry fee £4 Senior £1 Junior (under 18 on 1st March)
Click here for entry form, route sheets, route map and GPX files
Further details from Peter Witting, 44 Gladstone St, Kibworth, Leics LE8 0HL
Tel 0116 2792867 Email:challenge@ctclr.org.uk

If you are not riding, please call in for refreshments and meet the riders and helpers. It all helps support the club.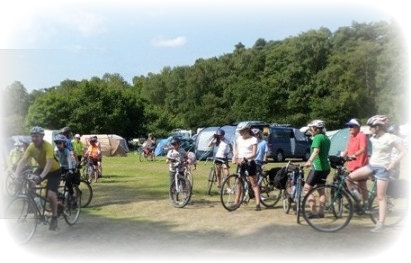 New Forest Cycling Week
3pm Friday 25th July to 10 am Saturday 2nd August 2014
Founded in 1975 and now based at the UK Youth Activity Centre at Avon Tyrrell Manor near Burley, the Rally is not a tour, in that rides are not mapped out beforehand. It is a Rally for cycle campers, free from pressure and over-organisation, yet offering activity for all those who wish to join in. It is for cycling families, small groups and individuals whether new to camping or, indeed, more experienced. Age is immaterial!
You are welcome to come for the entire duration of the Rally, or for whichever days are convenient to you.
Further details at http://newforestrallycc.org.uk/
President's Ride
Sunday 31st August
This gentle ride will start a Kibworth from the School Road car park at 09.45. There will be a 7.5 mile route to coffee at the Greenhouse café on the B6047 just north of the A6 Island. Then a 14 mile circuit to lunch at Shearsby. There is a choice of your own sandwiches on the green, or lunching at the Chandlers Arms - Leicester CAMRA Country Pub of the Year 2009, 2010, 2011, 2012 & 2013! It's then a half hour ride back to Kibworth.

Further details from Peter Witting, 44 Gladstone St, Kibworth, Leics LE8 0HL
Email: president@ctclr.org.uk
Tea and refreshments from 11.00 to 15.00.
OS map 119 SK 319 473
Proceeds will be donated to the Lincs and Notts Air Ambulance – a charity very important to Sid's family.
Off Road 16m/25m Challenge Rides
Sunday 28th September 2014
Leicestershire Cyclists' Association 60 plus Reunion
Tuesday 7th October 2014

Annual Film Show and Photographic & Competition
Saturday 15th November 2014 Theme = Shadows
Leicestershire and Rutland CTC AGM
Sunday 16th November 2014
10:30 am-1:30 pm
Botcheston Village Hall Click here for map.
For further details contact the Hon. Secretary, Ray Clay
Tel. 01509 261068
Email:secretary@ctclr.org.uk
Any Notice of Motion should be submitted to the Hon. Sec. at least two weeks prior to the meeting.
Cyclists' Carol Service
Sunday 8th December 2013
at St Botolph's church, Shepshed
For further details contact Ray Clay
Tel. 01509 261068
Email:secretary@ctclr.org.uk
The famous Mince Pie Run will again be taking place at Belton Village Hall (10.30am to 12-30pm). Raffle in aid of Rainbows Children's Hospice. Click here for map and further details.
If you have any comments or suggestions relating to this website please post them in the
Discussion Forum.

View site Stats (since25/7/12)